---
BERITA - BERITA menarik PERLAWANAN tempat ke 3 & ke 4 Piala Dunia 2002
daegu, korea selatan - 29hb Jun 2002
BERITA [3] :
Turkey beat South Korea to take third place
Captain Hakan Sukur (R) of Turkey is congratulated by Ilhan Mansiz
© EPA Emmanuel Dunand

DAEGU, South Korea (AFP) -Turkey took advantage of slack defending and scored the fastest goal in World Cup history on the way to beating South Korea 3-2 to claim third place in the competition.

The South Koreans, who had eliminated Portugal, Italy and Spain on the way to becoming the first Asian side ever to reach the semi-finals, flopped on their final showing in the competition they have co-hosted with Japan since May 31.

And it meant that Dutch coach Guus Hiddink bowed out with a second straight loss in the playoff match having been in charge of Holland four years ago when they were defeated by Croatia.

Hakan Sukur broke the speed record when he netted after 10.8 seconds to shatter the record of 15 seconds set in 1962 by Czechoslovakia's Vaclav Masek against Mexico. It was his first goal of an otherwise disappointing tournament.

Lee Eul-Young levelled after just nine minutes of a frenetic opening but Ilhan Mansiz scored twice after 13 and 32 minutes to set the Turks right on course as they took third place for their best ever showing in only their second World Cup appearance.

Despite Korean pressure in the second half the hosts showed little accuracy in front of goal after the break despite the exhortations from the touchline of Hiddink, whose contract officially ends after Sunday's final in Yokohama, Japan, between Germany and favourites Brazil.

But Song Chong-Gug did fire home a consolation in the dying seconds for 3-2 to raise a final cheer and both sides linked arms as they headed to salute the supporters.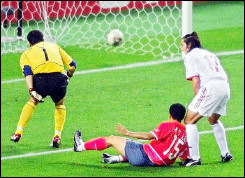 Turkey's Ilhan Mansiz (R) restores his side's lead
© EPA Pornchai Kittiwongsakul

Ahn Jung-Hwan, Korea's golden goal hero against Italy, had earlier seen a shot deflected inches wide and then substitute Cha Du-Ri forced a good save from Turkish keeper Rustu as 63,000 red-shirted fans screamed in frustration.

Turkish coach Senol Gunes opted to play Sukur, previously goalless in the finals, alongside Ilhan up front with Hasan Sas left on the bench.

And Sukur it was who promptly netted as the clock ticked up 11 seconds, firing home past Korean keeper Lee Woon-Jae after Korean defensive stalwart and skipper Hong Myung-Bo trod on the ball and lost possession.

Hong, making his 135th and final appearance after 12 years in Korean colours, would not reappear after the interval.

The shocked Koreans were soon back on track, however.

After just nine minutes it was 1-1, Lee Eul-Yong firing home a brilliant left-footed free-kick which left Recber helpless in the Turkish goal.

Three minutes later Turkey went back in front as Ilhan prodded the ball in from around 10 yards after a quick breakaway as the Korean defence melted away.

Ahn then brought a brilliant one-handed save from Rustu as he jinked his way through the Turkish defence before whipping a snapshot towards the top corner after 20 minutes of a frenetic contest.

But after 32 minutes Ilhan, combining brilliantly again and again with Parma striker Sukur, made it 3-1 with a neat chip over Lee.

Ahn thought he had closed the gap on 40 minutes but Lee Chun-Soo stood offside.

The Koreans, hoping to take the bronze medal having co-hosted the event with Japan, left veteran forward Hwang Sun-Hong on the bench as well as Cha Du-Ri, but the latter came for the final half hour.

The South Koreans lost to Germany in their semi-final while Turkey went down to Brazil, both matches finishing 1-0.

The Turks had claimed mental tiredness before the start - but in truth it was South Korea who had shot their bolt once they bowed out to the Germans.

Both sides will hope that they do not go of the way of the last three sides to lose the playoff match.

England, who lost to Italy in 1990, Bulgaria, who lost to Sweden in 1994 and Holland, who lost to Croatia in 1998 all failed to qualify for the following tournament.

It was the third time that the host nation had played in the match for third place but on the previous two occasions the home side emerged victorious, Chile beating Yugoslavia in 1962 and then Italy ousting England in 1990.
---
[1] [2] [3] [4] - Menu Utama Piala Dunia 2002 / SeramaNS dot Com